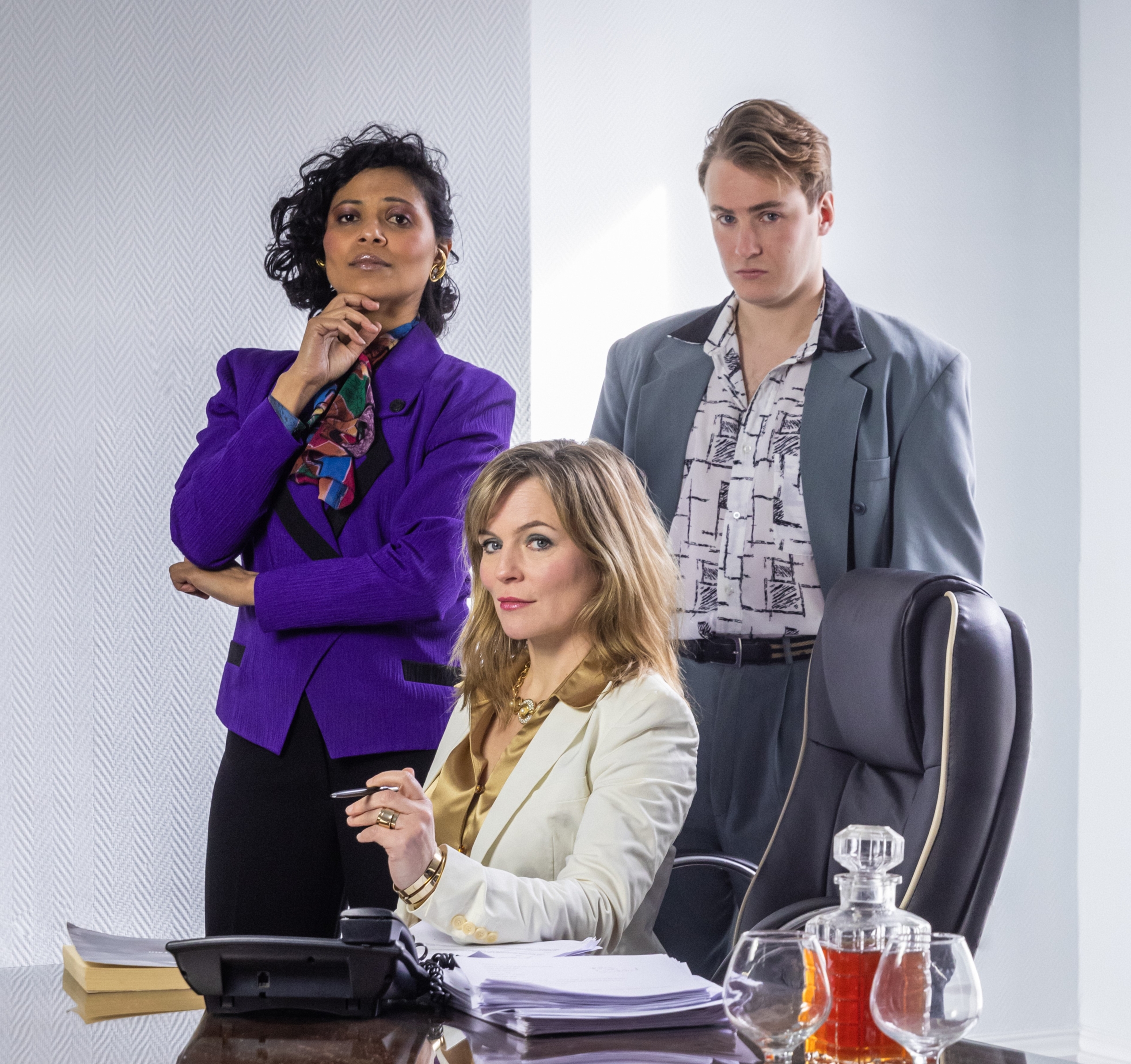 Speed The Plow by David Mamet
Verdant Productions present
Speed The Plow by David Mamet
Directed by Andy Crook
Starring, Jolly Abraham, Tara Egan Langley, Macleod Stephen
Set & Costume Design: Louise Dunne: Lighting Design: Eoin Winning; Sound Design: Ivan Birthistle
Civic Theatre, Tallaght 5th – 8th April: Tel: 01 462 7477
Booking: https://www.civictheatre.ie/whats-on/speed-the-plow/
Pavilion Theatre, Dún Laoghaire 13th – 15th April Tel: 01 231 2929
Booking: https://www.paviliontheatre.ie/events/view/speed-the-plow
Ramor Theatre, Cavan 26th April Tel:049 854 7074
Booking: https://ramortheatre.ticketsolve.com/ticketbooth/shows/873644244
Droichead Arts Centre 27th April Tel: 041 98 33946
Booking: https://www.droichead.com/show-detail/?id=873642585
With permission from David Mamet (Glengarry Glen Ross, Hannibal), Andy Crook directs this exciting, all new version of the classic satire Speed The Plow.
This re-imagining of David Mamet's 1980s hit play turns the dynamic on its head as the genders of the protagonists are reversed. Set in Hollywood where power is everything and morals are a commodity to be bought and sold, this production will examine the hierarchy from an alternative perspective. With two females as the movie executives and a younger male, the plot is given an entirely different context.
Speed The Plow has been performed by such luminaries as William H Macy, Jeff Goldblum, Joe Mantegna, Elizabeth Moss, Lindsay Lohan and is notable for marking Madonna's stage debut.
What the Critics said of previous productions of the Tony nominated play Speed The Plow
"When the curtain falls on this short and unsparing study of sharks in the shallows of the movie industry, it's as if you had stepped off a world-class roller coaster."
Ben Brantley – New York Times
"When Hollywood meets Broadway, sparks fly and Tinseltown's incinerated – especially if the flamethrower is David Mamet. So it is with "Speed-the-Plow."
Clive Barnes – New York Post
"Mamet's scintillating dialogue and black humour render it just about timeless…"
Jason Blake – Sydney Morning Herald
Cast
Jolly Abraham – An Octoroon (Abbey Theatre) On TV – Elementary, Law & Order SVU,
Tara Egan Langley – Chekov's First Play (Dead Centre) On TV – Harry Wild, The Fall
Macleod Stephen – Staging the Treaty (National Concert Hall)
Trailer: https://www.youtube.com/watch?v=u_Ago9OXpj0
THIS PRODUCTION IS SUPPORTED BY THE ARTS COUNCIL

Andy Crook Biography
As a director, Andy has worked in Ireland, the UK and Europe. Most recently he directed 'All the Moments' by Patrick O' Sullivan for Scene+Heard at Smock Alley. He wrote and directed 'The Fabulously True and Timeless Tales of Sergeant Virgil' and 'Short Stories and Long Tales' both for Republic of Culture and Backstage Theatre, Longford. Andy is an Associate Director with the Corps Ensemble for whom has directed 'Kissing the Witch' by Emma Donoghue and 'Once Around the Block' by Robert Higgins. He also directed Friedrich Durrenmatt's 'The Visit' for Backstage Theatre, 'Audition, Zoe's Audition' for Suzanna Geraghty and 'Chromosome Why' for No Desserts Theatre Co. Andy is also an actor and was most recently seen in 'Maxine' for Channel 5 TV. Andy trained at École Internationale de Théâtre Jacques Lecoq, Paris and teaches Physical Theatre for The Lir Academy, Dublin.