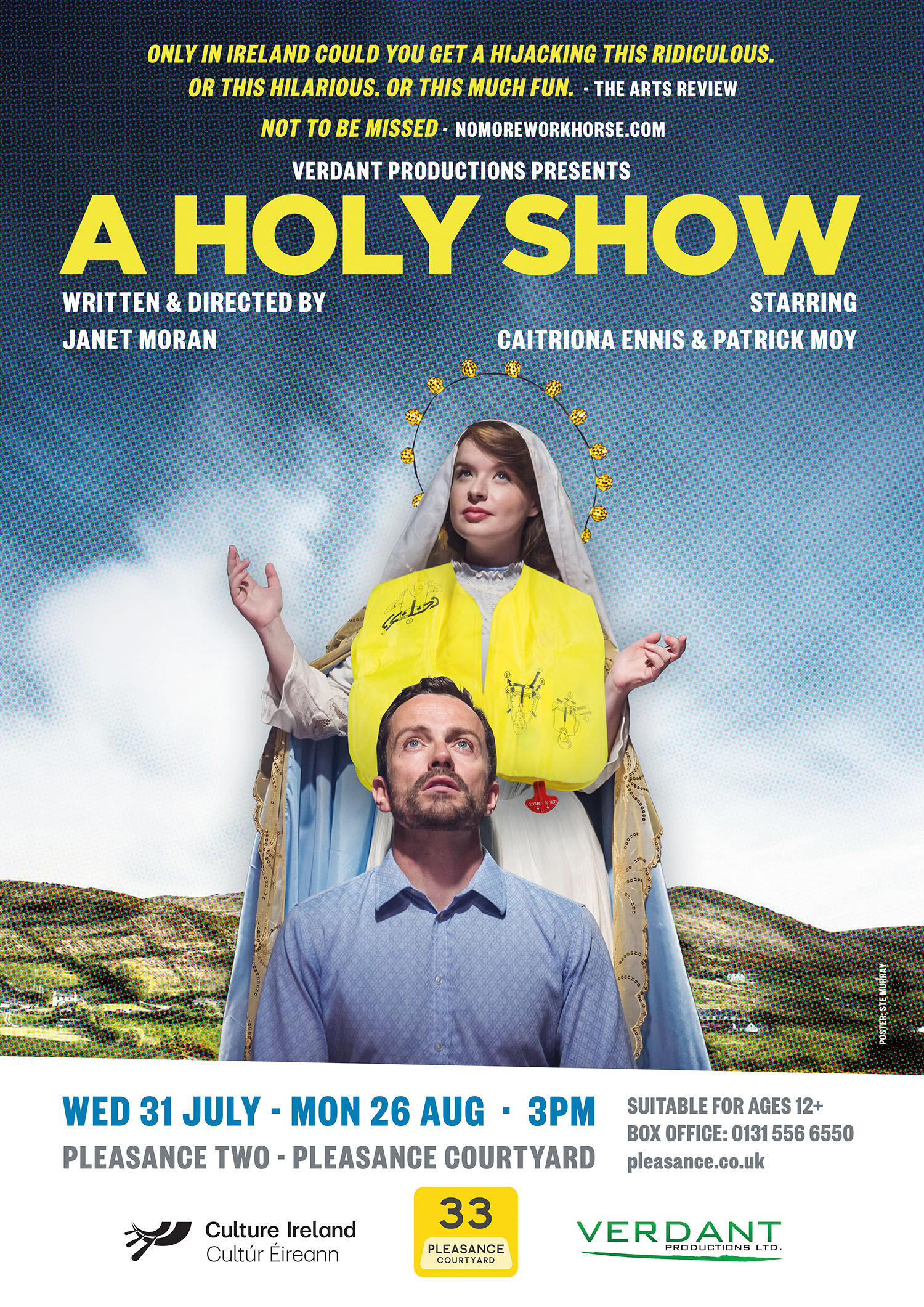 A Holy Show by Janet Moran
A Holy Show written & directed by Janet Moran at Edinburgh Fringe Festival 2019
At Pleasance 2 from Wednesday 31st July to Monday 26th August 2019: 3pm
The true story of a nostalgic comedy based on a very Irish hijacking
A new comedy based on the 1981 hijacking of an Aer Lingus plane, by an ex-Trappist monk, with a bottle of water as his weapon, the Pope as his nemesis, and a burning desire to know The Third Secret of Fatima. A nostalgic comedy based on a very Irish hijacking
Actress Janet Moran is stepping off the stage and going behind the scenes as writer and director of brand new comedy 'A Holy Show' – a play based on the 1981 hijacking of an Aer Lingus flight. Playing at Pleasance 2 from  Wednesday 31st July at 3pm
Starring Caitriona Ennis and Patrick Moy, 'A Holy Show' takes us back to 1981 and brings us on board the ill-fated Aer Lingus flight EI 164 from Dublin to London. The show follows the passengers and crew as this most Irish of hijackings unfolds – carried out by an ex-Trappist monk with a bottle of holy water as his weapon and a burning desire to know the Third Secret of Fatima.
Following on from the success of 'Swing' which she co-wrote and performed in at Edinburgh Festival, 'A Holy Show' marks Janet Moran's solo writing and directing debut. Based on the incredible story of the hijacking, the show throws light on Ireland's relationship with religious faith through warmth and humour.
Janet says she hopes audiences will find comedy as well as some moments to reflect on: "I want to make people laugh but to also challenge their ideas about religion and its place in civil society."
This wonderful production is high energy and takes audiences on a whirl wind of a comic journey with both actors playing multiple characters at breakneck speed. The sharp, insightful script delivers a laugh a minute alongside a revealing and probing understanding of faith in Ireland, both in the 80's and today.
Pleasance 2: https://www.pleasance.co.uk/event/holy-show#overview 
Box office: Tickets from £7.00
Edinburgh Box Office number: 0131 556 6550.
Pleasance Courtyard, 60 Pleasance, Edinburgh, EH8 9TJ
Reviews:
Gloriously comic and unexpectedly thoughtful show….A Holy Show is, among other things, a time capsule of an earlier Ireland, that illuminates the distance between the past and its certainties, and the uncertain present. it's funny, wise and expertly performed. Like Flight 164 itself, it carries you off to places you didn't think it would go.
The List  **** 
Airplane meets Hall's Pictorial Weekly …Moy and Ennis delivering deeply enjoyable and impeccable performances… have you cracking a rib with laughter…. Only in Ireland could you get a hijacking this ridiculous. Or this hilarious. Or this much fun. The Arts Review ****
Ennis and Moy are a dream team, and Moran has said that she managed to get the two best actors she knows for her writing debut. They physically inhabit each new character at breakneck speed making each one completely believable and unique. There is also an enviable creative team behind the scenes. The audience last night was completely enchanted by the play …Not to be missed. No More Workhorse
lovingly made, giddily nostalgic comedy….An enviable team of collaborators seizes every opportunity for embellishment, from earthy comic turns to absurd religious visitations to slick stage effects The Irish Times