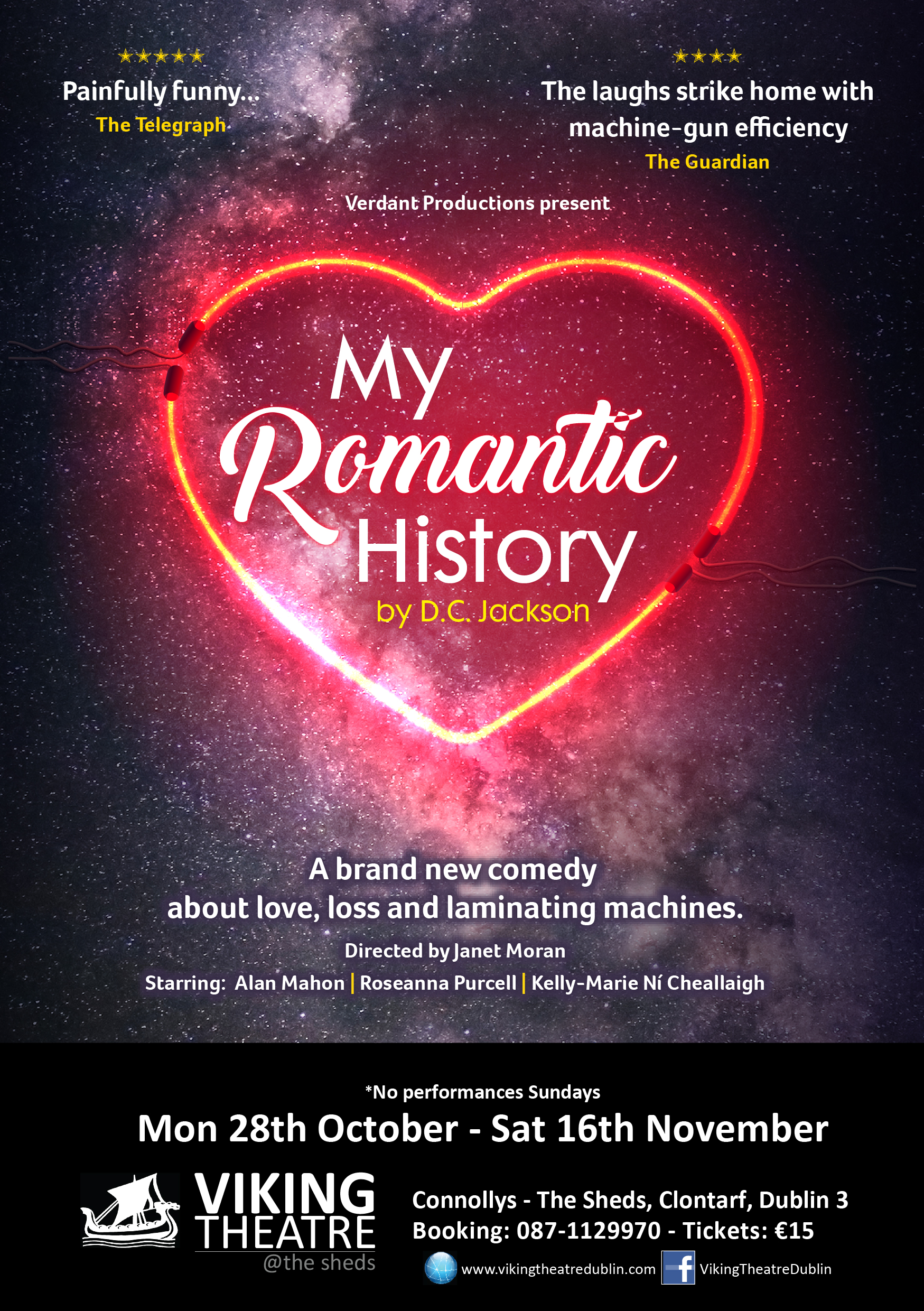 Verdant Productions present
My Romantic History
by D.C. Jackson
at The Viking Theatre, Clontarf
Preview Monday 28th October 2019 at 8pm
Open night Tuesday 29th October  until Saturday 16th November
Directed by Janet Moran
Cast
Roseanna Purcell as Amy / Alan Mahon as Tom / Kelly-Marie Ni Cheallaigh as Sasha
A brand new comedy about love, loss and laminating machines.
Working in the same office, Tom (the new guy at work) and Amy end up together after a drunken one night stand. They quickly find themselves living in each other's pockets. However, the ghosts of past relationships still haunt them and begin to interfere with the here and now.
Encouraged by the harmless work mate Sasha, with her hippy tendencies and enthusiastic sermons on her Mooncups from Glastonbury and the joys of Samba Drumming, make her the subject of the office bitchiness.
The writer DC Jackson said, "Office romances are tricky. One moment you're colleagues, then a quick grope after Friday night drinks and suddenly you're in a relationship. But it's not their lack of chemistry that's the problem: it's that neither of them can quite get over their childhood sweethearts."
"If you haven't met someone by the time you graduate, you're going to marry some idiot from your work. It's that simple"
Directed by Janet Moran
Set Design by Rodolfo Villalobos
Costume Design by Nicola Burke
Booking/Listings Information:
Venue: The Viking Theatre, Clontarf, Dublin
Date: From 28 October  to Sat 16 November 2019 at 8pm
Tickets: €15    Phone Bookings: 087 112 9970
Web: www.vikingtheatredublin.com
Reviews:
a lethal comedic weapon… Spiced with hilarious observational detail   The Guardian ✭✭✭✭       
painfully funny……The Telegraph        ✭✭✭✭✭
I haven't laughed so much in a theatre in a long time. And that is the absolute truth….
you really should go and see it.    British Theatre Guide 
Sparkling with witty dialogue and constant narrative musings, it dashes along, flinging out ideas and one-liners like an alcohol-fuelled singleton out on the lash     The Arts Desk
 Theatrically smart… it's a comedy of misunderstanding and entrapment     Broadway Baby ✭✭✭✭✭
"This is 90 minutes with which you should certainly make a date."   Lyn Gardner, The Guardian