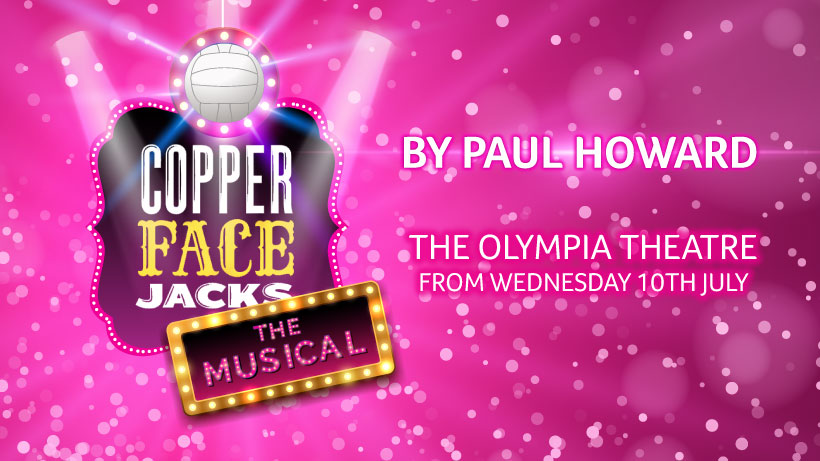 COPPER FACE JACKS: THE MUSICAL IS BACK!
The Comedy Hit of the Summer Returns to the Olympia Theatre In 2019!
Packed full of craic, huge laughs, culchies, Dubs and lots of shifting!
2018 reviews
✭✭✭✭ 'A belter of a show…a joy to behold' – Irish Daily Mail
'One of the hits of the summer' – Sunday Independent
'Sheer Hilarity' – The Irish Times
'Top Class' – Irish Mail On Sunday
'Copper Face Jacks: The Musical" is an unadulterated joy. Simply the most fun you can possibly have without getting arrested. Don't miss it.'  The Arts Review
'Brilliantly acted and hilariously played' – Irish Mirror
'Absolutely hilarious!…just brilliant' – Newstalk 
If you haven't seen #CoppersTheMusical showing @olympiatheatre stop what you're doing and book some tickets immediately. It is brilliantly funny and so cleverly written. The timing and selection of the tunes is absolutely epic too. 👏#BrianODriscoll
'Highly Recommended' 
 'The entire Olympia up and on its feet dancing and cheering by the end. Highly recommended' – Joe.ie
'You will have pains from laughing' – Evoke.ie
COPPER FACE JACKS: THE MUSICAL was the hottest ticket in Dublin last summer following rave reviews and standing ovations every single night!