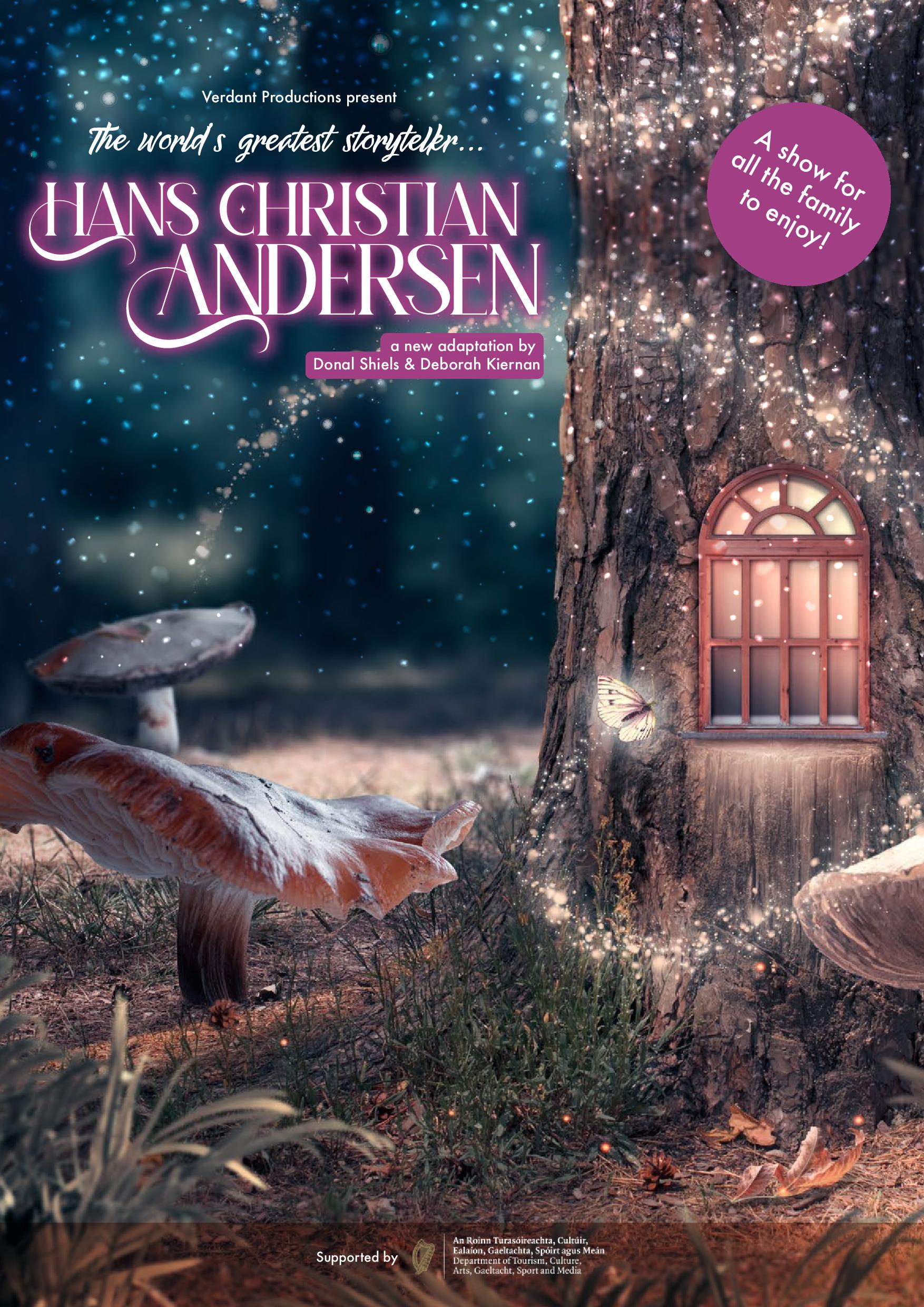 Online from Tues 22 December to Sat 9 January
Verdant Productions presents a new production of The Stories of Hans Christian Andersen in a digital online presentation at venues nationwide. A magical show for all the family to enjoy together during the festive season. Hans Christian Andersen was the greatest storyteller in the world and his stories have lived long in children's hearts and minds. The 1952 film starring Danny Kaye was nominated for six Oscars and was one of the formative MGM technicolour movie classics. It left an impression on all our minds for generations thereafter. In this production, we reimagine his stories through enchanting new digital imagery, featuring well known songs like the Oscar nominated song Thumbelina as well as The Emperor's New Clothes, The Ugly Duckling, The Little Mermaid.
We invite you to snuggle up with your loved ones and join us on this lively, fun and fantastical journey.
Opening at Draiocht, Blanchardstown from next Tuesday 22 December
Touring Online at Venues Nationwide from 22 December to 9 January 
Draiocht, Blanchardstown  22 Dec to 5 January                       www.draiocht.ie
Wexford Arts Centre           22 Dec to 9 January                         www.wexfordartscentre.ie
Visual Carlow                       22-23,27-30 Dec 2,3,5 Jan              www.visual.ie
The Mill Theatre, Dundrum  27-29 Dec & 1-3 January            www.milltheatre.ie
Siamsa Tire, Tralee              23 Dec to 9 January                          www.siamsatire.com
Watergate Theatre, Kilkenny  22 Dec to 3 January                    www.watergatetheatre.ie
Riverbank Arts Centre, Newbridge  4-8 January                        www.riverbank.ie
Town Hall Theatre, Galway Sat 9 January                                   www.tht.ie
Featuring
Brian Gilligan (The Commitments, The Lion King, Once The Musical),
Rachel O'Connell (The Young Offenders, Eclipsed),
Daithi O'Donnell (Ros na Rún)
Kelly-Marie Ní Cheallaigh (Copper Face Jacks The Musical)
Directed & Choreographed by Debbie Kiernan. Set Design Vincent Bell.
Costume Design Nicola Burke. Lighting Design Eamon Fox. Music Ross O'Connor
Adapted by Donal Shiels & Debbie Kiernan
This production has been grant aided by the 'Live Entertainment Fund' from The Department of Tourism, Arts, Culture. Sport & The Gaeltacht
Sabrina Sheehan, MPRII 
Founder|MD, Mission PR & Communications Ltd. – Music, Entertainment, Cultural & Lifestyle Communications
5th Floor, 12-14 College Green,
Dublin 2
Contact:  sabrinasheehan@missionpr.ie |
086 2503751 | 01 6750695
facebook.com/hellomissionpr | twitter.com/hellomissionpr |  www.missionpr.ie
For more information and show announcements visit:
Instagram: hanschristianandersenstories
Facebook Page: @StoriesofHansChrsitianAndersen
Twitter: @VerdantProduct1